Step by step guide to your SOLE detox
Booking in is easy, simply contact us via direct message, WhatsApp or through our website with your request.
A member of our team will then advise which service best suits the needs of your footwear.
Drop off: Select a date and time and bring your shoes to store or one of our collection points (MCR).
Collection: We'll come to you, with a door step pickup for a small additional charge.
Post: Package up and send them to us with a secure courier of your choice.
Our SOLE care technicians work their magic on your footwear.
Your footwear will be ready to go within 5-7 days, detoxed.
Once the SOLE detox has been complete we will notify you.
Your footwear can be collected inshore, delivered to you or posted back.
"When the sole is clean you feel brand new"
"When the sole is clean you feel brand new"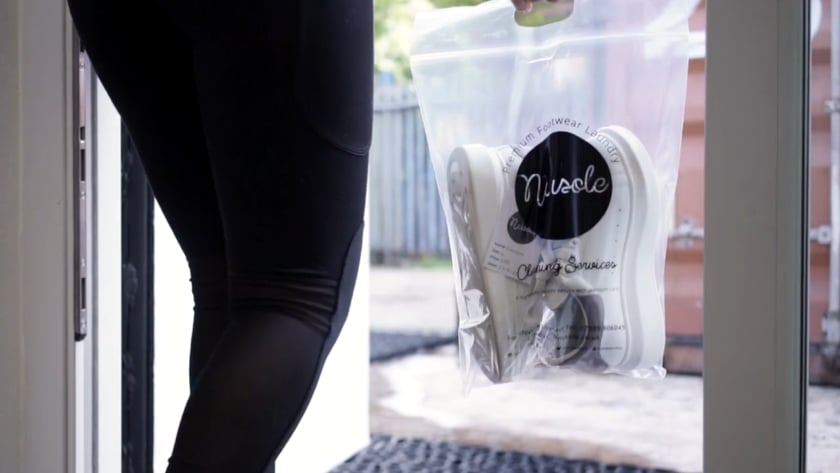 What is your normal turnaround time?
There is a standard 5-7 working day turnaround period for the completion of all cleans. Additional services, including repairs/paintwork, may require longer than 5-7 days.
Booking in is easy, simply create your booking through the 'book your clean' tab online.
As part of the process you will be able to choose your package and select your preferred method preferred method for getting them to us.
A member of the Nusole team will then be in touch to verify and complete your booking.
Our sole care technicians work their magic on your footwear before they are ready to collected, delivered or posted back 5-7 days later fresh!
Our Manchester based HQ is located in the Ancoats area (Pollard Yard). To book in and secure your drop off appointment simply click the 'book your clean' tab and follow the instruction to complete the process.
Cant make it to us? Not a problem we can come to you with our collection service (price dependant on city/area).
Alternatively we can be reached via a postal service.
Can you clean delicate materials?
Yes! Most definitely we take pride in our ability to effectively remove first and stains from the most delicate of materials such as suede.
See 'our results' section of full terms and conditions for details on stain removal.
Do you only clean designer footwear?
Absolutely not, at Nusole we cater for an extensive range of brands from sports wear too high end designer (mens, woman and children). We also accept all styles of footwear including sneakers, heels, boots, sliders and loafers.
Do you repair heels and woman's footwear?
We do indeed. Our specialist services extend far beyond cleaning with the offer of re-tips, repaints Louboutin red bottom sole restorations.
Nusole Clean
DETAILED CLEAN
DETAILED CLEANING OF
Don't have whatsapp or just want to ask us a question? Fill in the form below and a member of our team will respond asap.
Sign up to our newsletter to be the first to hear about exclusive offers, updates and more. First time email subscribers get 10% off their first clean.